Temple of Phobos No.1 in Close-Up Magazine!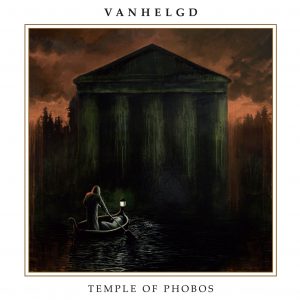 I personally found it hard to believe that people would "get" what kind of path from "Relics" we decided to follow on "Temple of Phobos", (and some obviously had no clue – giving us both good and bad reviews for writing an album they didn't expect us to write). I'm not sure if being no. 7 in "Sweden Rock Magazine" (who never even made an interview with us and mostly is concerned with metal rather than death metal) or being no 1 in "Close-Up" is most surprising.
But as we stated a couple of months earlier : Back in the early nineties, when you could not just go online and finde everything, "Close-Up" was the ultimate guide to the galaxy of extreme music for most swedes. It is a Swedish metal and punk magazine that has been around since 1991. (Yes it's the magazine that made the famous death metal boat trip this year with Entombed, Merciless, Grave, Interment, God Macabre and so on) Growing up in a small-town far away from any scene Close-Up came to be the most important source for information about extreme music. I was reading every interview and review, carefully listening to the sampler CDs and sent all our demos, anxiously waiting for the next issue hoping that they might review it….
We never expected reviews when we started Vanhelgd and certainly not good ones. Suddenly we were among the top albums of 2014 then a SoundCheck winner in their 25 year anniversary number and now 2016, album of the year! Vanhelgd is not about to gain fame or about attracting "fans" or "followers". We are not writing song for pleasing critics and music journalist. Actually what you think about us doesn't have any effect on the music we write since we do this for ourselves whether anyone likes it or not. But it's of course great when people notice what we do and think we do it good. Thank you for the support and the great reviews but in the end of the day it won't change anything in our process.
When writing this we just started to work on our next album, we won't do any big tour in 2017 but we are always open for shows and festivals. 2016 has been a strange year. It started with finalizing "Temple of Phobos" in "Studio Underjord" and mastered in "Necromorbus Studio". Guest vocals by Fia Kempe and trumpets by Jan-Helge Henriksen. We released the album on "Pulverised records" and "Dark Descent Records" (the tape version was handeled by "Ljudkassett") and we lost original drummer Björn Anderson and recruited Mathias Westman ( Throne of Heresy, King of Asgard). We only did two shows, both in Sweden, the first one in Göteborg at the Miasmal release party with Bastard Grave and the second one with "Chronophobia" and "My Regime" at "Klubb Dissonans" in Jönköping.
"Hör! Frihetens tid är här, ty undergången är gränslös.
Se! Försoningens tid är nu, ty galgbacken förbrödrar."
/ Mattias on behalf of Vanhelgd